Well, it took damn near three months, but we finally closed on our "new" house today ("new" to us, but it is old, the core section of the house dates back to 1861, and one of the barns dates back to the 1850s.)
We have not narrowed down our desired layout configuration yet, but we will have ample space to do as we wish, and with the room that we want to build the layout in having cinder block and brick walls, topped with a heart pine roofing structure above it, it should remain safe for a long time to come.
Then again, there is a rather large barn on the property with a mostly finished interior that would be great for making a large model train layout inside of...
Here is the rough floor plan from the VA inspector's report:
Here is an excised portion of those plans covering just the house:
And here is one set of possibilities for said house, with the layout room annotated. In order to reach the room, one must go through the back porch, which is enclosed as well, which would make keeping the room secure from cats and children quite easy. So far, only two cats will be allowed in with no restrictions: Duchess Natasha, and Empress Suzy (my 15 year old companion cat, and my 4 month old companion kitten respectively).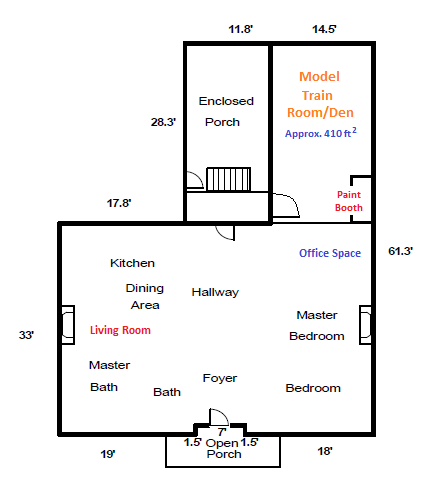 Some work is needed here and there, but for $62,000 for the house and 9 acres, why the heck not?
We are open to and welcome suggestions as far as layout design and details are concerned.