ConducTTor wrote:

LVG1 wrote:This thread looks so deserted.

It mostly waits for you Germans to add to it....since you know these trains better than the rest of us
True, true!
But being the only one—at least for the recent 1 year, 9 months, 4 weeks and 1 day—writing about available TT-scale models' German prototypes doesn't feel very comfortable. I like to share may knowledge. But I don't like to be in the focus.
Nonetheless, I have to confess, I had a little bit too much time during the recent days. So, I've already prepared the next description.
So, let's see what follows next:
Series E36—not in TT scale!
Series E40 has already been treated of earlier in this thread.
What about series E41? I'm not sure. German Modellbau Wiki claims that it was made in TT-scale. But I've never seen a model of its manufacturer—not even a photo. Already concerning series 111, this manufacturer was listed; but the response was that there had never been a model available. So I don't know if "TT-scale series E41" is more than just a myth...
However:
Series E41—the prototype
In the 1950's, Deutsche Bundesbahn established their program of standardized electric locomotives. Besides two medium-size versions—series E10 for passenger and series E40 for freight service—and a heavy freight version—series E50—there was also a light version planned. This light version was designated series E41 and should be an efficient alternative for short trains of all kinds. Additionally, it should serve branch lines with weight restrictions—many of which still existed that time.
All locomotives of series E41 were equipped with analog push-pull train controls. It was DB's only type of electric locomotives so-equipped from their delivery on. Some other types were equipped that way later—initially few locomotives of series E44, but mainly series E10 (but only minor parts of these fleets).
The first unit was delivered in June 1956 and got the number E41 001. It was made by Henschel (electrical equipment supplied by BBC [Brown, Boveri & Cie.]). It was the first unit of the mass production of locomotives of DB's program of standardized electric locomotives. All together 451 locomotives of series E41 were delivered from 1956 through February 1970. Mass production was conducted by Henschel, Krupp and Krauss-Maffei. BBC, AEG (Allgemeine Elektricitäts-Gesellschaft / General Electricity Company) and SSW (Siemens-Schuckertwerke / Siemens, Schuckert works) supplied the electrical equipment.
The locomotives received the numbers E41 001 through E41 435. Then DB introduced their new numbering scheme, effective January 1, 1968. Following this scheme, the locomotives were renumbered into 141 001 through 141 435. The last units were already delivered with their new numbers from 141 436 through 141 451.
Although these locomotives were very reliable and efficient in operation and maintenance, DB relatively soon considered their retirement. So the first locomotives were already withdrawn from service in 1987 and officially discharged in 1988. But then demands changed. The nationwide introduction of synchronized timetables increased the need for motive power—especially in commuter traffic. So, DB couldn't forgo them for some further years.
When Deutsche Bahn (German Rail / DB) was founded as a commercial successor of the national railroads Deutsche Reichsbahn (German Imperial Railroad / DR) and Deutsche Bundesbahn (German Federal Railroad / DB) on January 1, 1994, most of the units of series 141 were still active and taken over by Deutsche Bahn. When DB split up their locomotive fleet into different branches, series 141 became part of the commuter branch—later DB Regio. But the fleet shrunk. Step by step, series 141 was replaced by quarter-century younger East German series 143 and by newly delivered EMUs of series 425 and 426. Finally, the last four units of these series lost their jobs to EMUs by the schedule change on December 10, 2006 and were scrapped about half a year later.
Initially, series E41 was used to pull light trains of all kinds in West Germany—freight, commuter and even inter-city trains. But already in the late 1950's, they were withdrawn from inter-city services because the speed of these trains rose. In the mid-1990's, also the freight services dropped out. Finally, their major task had always been commuter trains—especially push-pull trains in and around the agglomerations. More than half of DB's electric locomotives equipped with analog push-pull train controls had always belonged to series E41. So they always were the usual power for push-pull trains consisting of "Silberling" cars and 1950's type cars for fast commuter trains, respectively.
When Nuremberg introduced their suburban services (S-Bahn) in 1987, they decided on push-pull trains. But in contrast to Ruhrgebiet, they didn't use series 111 for that purpose. Instead, they altered seven locomotives of series 141—numbers 141 436 through 141 442—for these services. Already in the early 1990's, they were replaced by East German series 143 step by step and were not needed any more in 1994. But because they had got digital push-pull train controls for that purpose, they were now compatible with double-decker cab cars. But this task made them reach the limit of their power.
After the fall of the Berlin Wall, series 141 were also used on the Saale line between Bavaria in the south and Thuringian Camburg and Göschwitz and Saxony-Anhaltinian Naumburg in the north. These were the only East German assignments of these series.
But series E41 has been well-known for some rather uncomfortale characteristics. The developers didn't anticipate that some component of the locomotive's controls would produce a magnetic field causing some imbalances. Actually, these imbalances are not a problem—neither referring to reliability and maintenance, nor regarding safety.
While the switchgear is activated, this magnetic field can cause higher voltage peaks than the components are designed for. So, an electric arc can arise. When this electric arc ruptures, a loud bang can be heard and the voltage falls clearly for a moment. That's why switching operations of this locomotive type often result in a bang and jerking.
This characteristic made passengers quickly come by the idea to give these locomotives nicknames like "Knallfrosch" (firecracker) or "Sektkorken" (sparkling wine cork).
Differences and changes
Series E41 experienced the same changes which were also applied to all other standardized electric locomotives of DB. But there were some additional differences, too.
The first 25 units—numbers E41 001 through E41 025—were equipped with engine room windows—one on one side, two on the other side. But from number E41 026 on, a cheaper solution was preferred. There were no engine room windows, any more. Instead, there were additional radiator grilles at their positions. The first locomotives were later adjusted to the rest of the fleet.
From the 1970's on, the original radiator grilles with rounded corners were step by step replaced with Klatte-type ones which were also used by more modern types of locomotives (series 111 and 151).
Initially, large head lights with integrated EOT lights were used. But later a smaller type of lights was installed which consisted of separate white head lights and red EOT lights. Many of the original head lights were changed later.
Initially, all locomotives were equipped with handrails and running boards all around the fronts from cab door to cab door. So, during stops, the crews could clean the windshields if necessary. But obviously, it was too much luxury. Later, these installations were replaced by two small grab irons (one beside the head light, the other one below the wind shield) and a small step below the headlight per vehicle front—but only on the engineer's side (right side).
Initially, the locomotives' rain gutters surrounded the entire roofs. But this construction proved to be disadvantageous. Water congregated in these gutters and made the carbodies rust quickly at these points. So, these surrounding rain gutters were later removed. Instead, short rounded rain gutters were installed only above windshields and cab doors.
In contrast to the rest of the series, the last five units—numbers 141 447 through 141 451—were delivered with dynamic braking. They are discernable by additional rooftop mountings housing the brake resistors.
From 1960 on, number E41 091—together with an accordingly equipped cab car—received an early test version of digital push-pull train controls. The final version was later introduced with series 111 and the new cars for suburban traffic (S-Bahn) and is nowadays state of the art all over Germany. But the test version unfortunately was not compatible with anything else.
In 1987, numbers 141 436 through 141 442 were altered according to the needs of Nuremberg suburban traffic. These seven units received the final version of these digital push-pull train controls. Besides that, also destination indicators behind the windshields were installed.
Techical data
diagram of series E41
Length over buffers: 15.66 m (51 feet, 4 1/2 inches)
Wheel arrangement: B

0

' B

0

'
Top speed: 120 km/h (75 mph)
Permanent power: 2,310 kW (3,098 American horse powers)
Maximum power: 2,400 kW (3,219 American horse powers)
Dynamic braking:

141 001 … 141 446: not available
141 447 … 141 451: without feeding back to the overhead wiring; performance unknown to me

Weight:

141 001 … 141 446: 66.4 metric tons
141 447 … 141 451: 69 metric tons
Liveries
Lots of images are around on the web. And lots of versions of series E41 were around. Though many photos can be found, it's hard to find pictures of specific versions. So, the following images can only provide an incomplete overview.
First livery
Initially, DB's standard livery of electric locomotives was green. But there were also few blue locomotives matching the colors of DB's blue premium trains. On the one hand, DB liked this differentiation. On the other hand, it made fleet management and maintenance more complicated because it was hard to keep an overview which locomotive was optically suitable for which train and which color a locomotive should get when in need of a new coat of paint. So, DB aimed for standardization.
That's why, together with the start of mass production of their new standardized electric locomotives, they defined a rule how to decide which locomotive should get which livery. They chose the locomotives' top speed to be the differentiator; fast locomotives should be blue and slow locomotives should be green. The top speed of 120
km
/
h
(75 mph) was defined as limiting value.
But what about the limiting value itself? Where does it belong to? Series E41 exactly matches this limiting value. I don't know if the rule was initially formulated in a misunderstandable way or if the people in power changed their minds, eventually. Finally, the first locomotives were delivered in blue livery before DB made the manufacturers change to green.
So, the initial livery consisted of a black chassis and main frame, a dark blue carbody and a silver roof. The first 24 units (E41 001 through E41 024) were delivered with this livery. But when they needed new paint (probably in the 1960's or 1970's), they became green.
Many photos of restored E41 001 are available (see "Preserved units" chapter). But contemporary images of the original blue units are very rare. The only one which I've found is stored at a provider preventing their photos from embedding to other websites.
Second livery
From number E41 025 on, all locomotives were delivered in green. It was the most long-living one of their liveries. Some locomotives even kept it up to the turn of the millenium.
The black color of chassis and main frame was kept to. The color of the carbody was a dark green. The specific color tone eventually changed. Initially, bottle green was chosen. Later, they used chromium-oxide green. But those color tones are very similar. So it's very often hard to tell which of these colors has been used—especially referencing photos. The roof was initially silver, later grey. But the locomotives without surrounding rain gutters got green roofs with grey rooftop mountings.
But there were exceptions. Series E41 was also used for color experiments. So, E41 291 got a dark grey mainframe instead of the black one. E41 373's mainframe was light grey. And finally, the mainframe of E41 374 was colored ocher yellow. None of these versions was adopted for regular liveries.
When suburban traffic (S-Bahn) was introduced to Ruhrgebiet in the 1970's, the trains initially consisted of "Silberling" cars pulled and pushed by series 141. At most of these locomotives, the DB logos on the front sides were replaced by "S-Bahn" logos. But it was an interim solution. So, these assignments didn't last for long. When these trains were replaced by new specially designed suburbahn cars combined with series 111 locomotives, the "S-Bahn" logos were removed from series 141's noses. But no DB logos were added. So, many of these locomotives ran with "naked" noses for several years.
Third livery
In the mid-1970's, DB introduced their new color scheme. From April 1975 on, all locomotives which needed a new coat of paint were colored in ocean blue / ivory. The chassis stayed black. Mainframes and lower edges of the carbodies became ocean blue. And the upper parts of the carbodies were colored in ivory.
But also this livery knows two exceptions. One of which was number 141 378-0. While all other locomotives got ivory roofs with grey rooftop mountings, this one initially got an ocean blue roof with grey rooftop mountings.
The other exception was more popular. When suburban traffic (S-Bahn) was introduced in Ruhrgebiet, DB wanted special cars for this purpose. So, they altered one trainset of "Silberling" cars. These cars were equipped with several components (doors and so on) which were to be tested in regular service and later used by the new surburban cars. Because this train was altered in Karlsruhe, it was called "Karlsruher Zug" (Karlsruhe train). Because of its special purpose, it should get a special livery. This livery adopted the idea of the so-called "Pop" colors of the early 1970's. Essentially, it was an inverted version of the ocean blue / ivory color scheme. The balustrades were ivory and the window areas were ocean blue. Number 141 248-5 was chosen to be the regular motive power of this train. So it also got this livery in 1977. In contrast to other locomotives, it got an ivory carbody with a wide ocean blue stripe on the height of the cars' windows. The roof was ocean blue with grey rooftop mountings. But this livery was very special in another way, too. It was asymmetrical. At one end, the wide blue stripe surrounded the front of the locomotive to match the train's colors as well as possible. At the other end of the locomotive, the arrangement of colors was changed to produce a more attractive appearance. Even after this assignment, this locomotive kept this livery for a very long time and was even recolored in the same livery. Only DB Regio's "corporate-identity mania" made this locomotive be recolored into traffic red eventually around the turn of the millenium.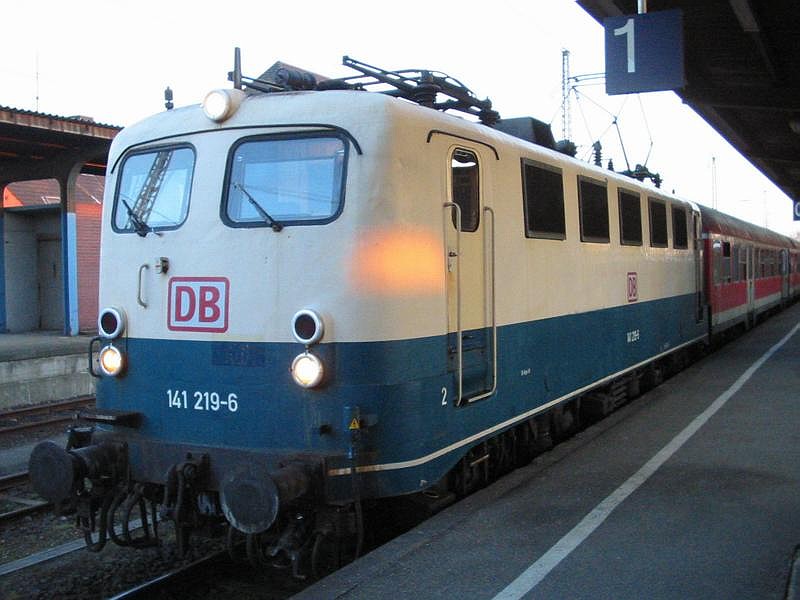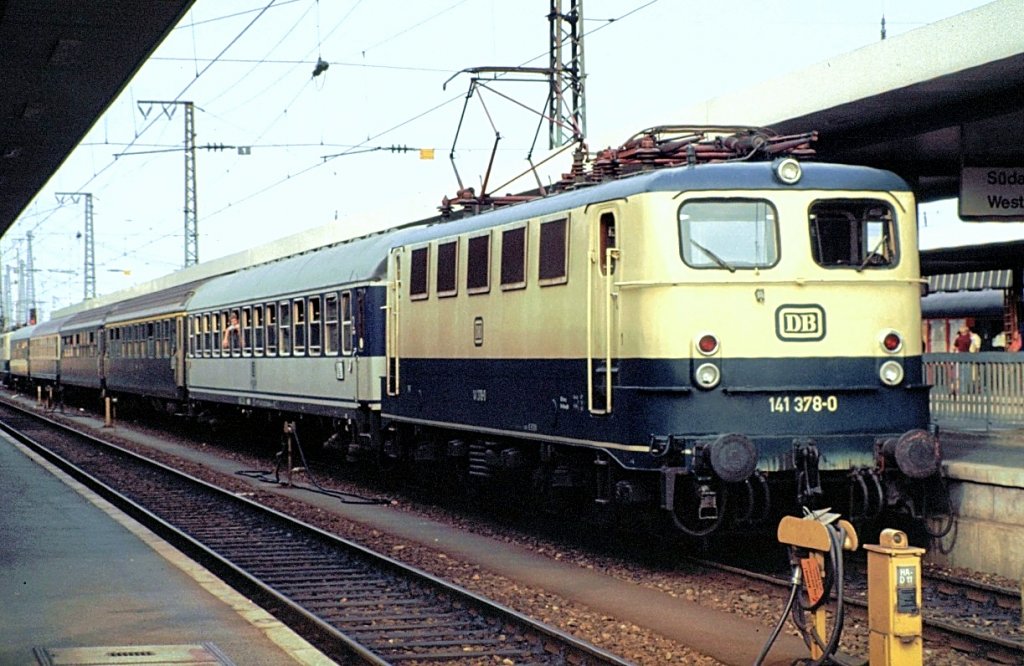 Suburban livery
Like already mentioned, numbers 141 436 through 141 442 were adjusted to the needs of Nuremberg suburban traffic (S-Bahn) in 1987. Besides technical changes, they also received a new livery matching the usual colors of the suburban cars used.
They got their chassis and rooftop mountings painted in anthracite color. Their mainframes, carbodies and roofs were light grey, now. On the height of the cars' windows, they had a wide orange stripe and a narrow yellow stripe below.
This livery was rather short-lived. Already in 1994, these locomotives had lost this assignment. So they were soon recolored into the contemporary orient red color scheme.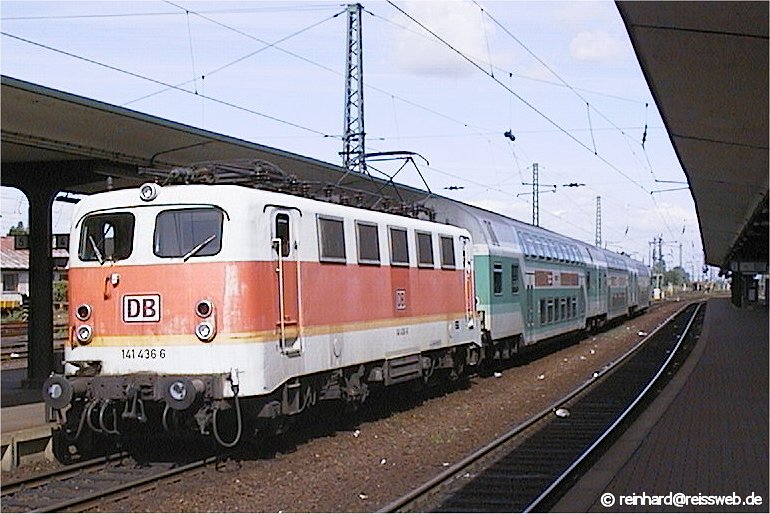 Fourth regular livery
Some sources claim that DB actually didn't want to apply its next color scheme to series 141 and only later decided to do so, although, because the locomotives were needed for longer. But that's not plausible. Series 141 belonged to the first ones getting this new livery in March 1987. The first units of series 141 were colored this way before the first locos of these series were discharged. And that happened before DB knew that they would need those locomotives for longer. So the causal succession doesn't fit to this claim.
The chassis was colored in anthracite. Mainframe, carbody and roof were orient red. Rooftop mountings were usually also orient red but could be grey, instead, on some locomotives. The areas surrounding the radiator grilles wore anthracite color. The radiator grilles themselves usually also were painted that way; but also locomotives with white (or was it silver color or aluminium without paint?) radiator grilles are known. And finally, white contrast areas—the so-called "Lätzchen" ("bibs")—were attached to the front sides of the locomotives. But even these bibs could slightly vary in shape and size.
Last livery
For half an eternity, it was a matter of course in Germany that locomotives were only recolored when they really needed new paint. So, in case of good care, (non-steam) locomotives could keep a single coat of paint for decades. Especially in West Germany, this usual procedure created a very colorful vehicle fleet—pure enjoyment for trainspotters and model railroaders. But now, with commercially organized Deutsche Bahn (DB), managers without any sense of railroading had taken the reins who have been more keen on "corporate identity" than on what customers like to see. So, the livery currently used by DB was applied to every locomotive getting a major overhaul—independent of any necessities. So, the older liveries (almost) completely disappeared within some years after this traffic red color scheme had been introduced.
From October 1997 on, the locomotives were painted as follows. The chassis were black. The upper halfs of the mainframes, the carbodies and the roofs wore traffic red color. The mainframes' lower halfs, the rooftop mountings, the radiator grilles and the areas surrounding the radiator grilles were basalt grey. Additionally, there was a white horizontal bar on every front side which was interrupted in the middle to make space for DB's emblem.
The amount of series 141 locomotives wearing this paint scheme was only limited by the fact that many of them were withdrawn from service within the same time frame when other locomotives were recolored this way.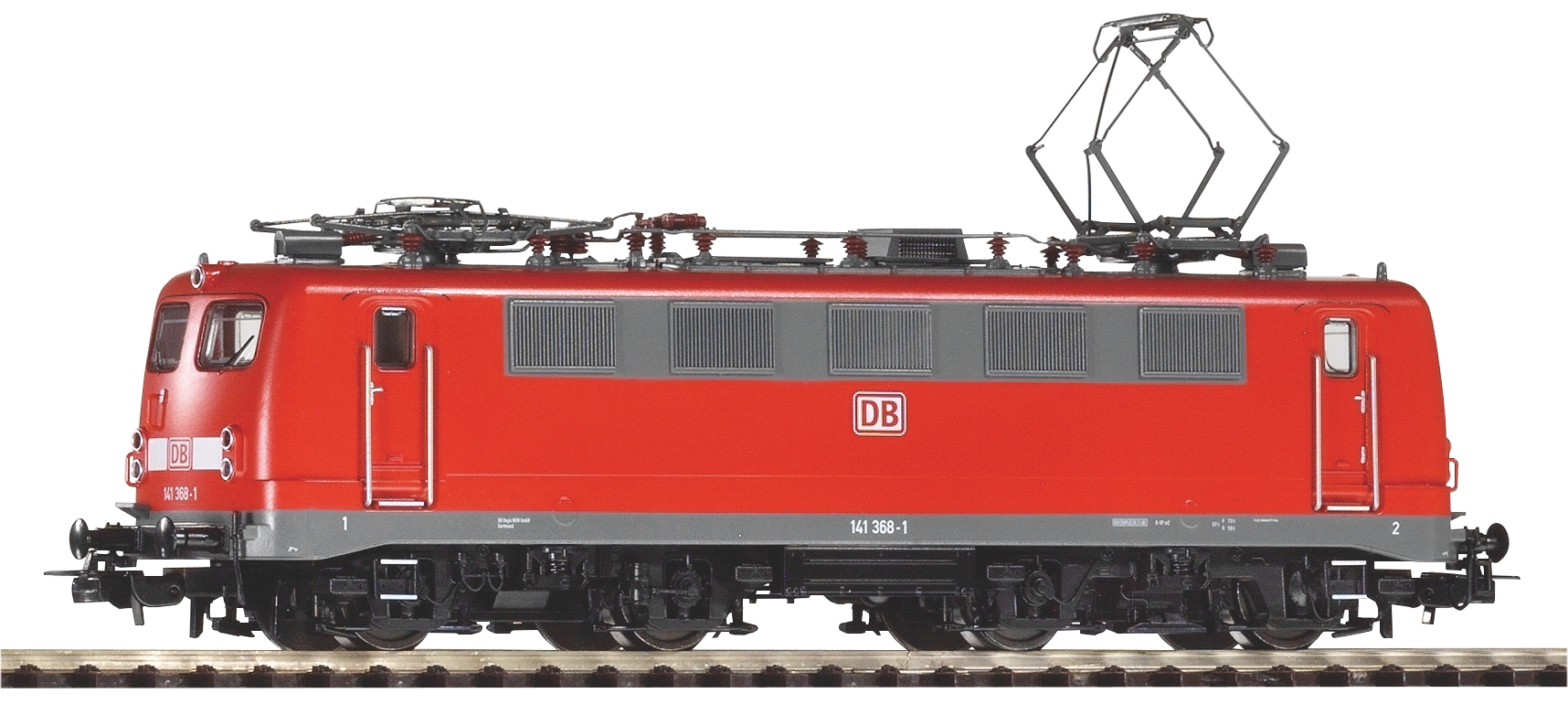 Preserved units
There are still two units which have been (ab)used:
141 068-7 (former E41 068) stands in Frankfurt upon Main and is used for locomotive engineer training:

141 161-0 (former E41 161) is in Fulda. There it's used as an object for emergency drills:

Further nine locomotives have been preserved for museum purposes:
141 001-8 (former E41 001) at DB Museum Koblenz:

141 006-7 (former E41 006) at Dieringhausen Railway Museum:

141 011-7 (former E41 011) owned by DB Regio, on loan to Traditionsverein Bw Nürnberg Hbf (Historical Society of Nuremberg Main Station Depot):

141 055-4 (former E41 055) at DB Museum Koblenz:

141 083-6 (former E41 083) owned by DB Museum, on loan to Bavarian Railway Museum in Nördlingen:

141 228-7 (former E41 228) operational and owned by DB Regio, on loan to Darmstadt-Kranichstein Railway Museum:

141 248-5 (former E41 248) owned by DB Museum, on loan to Eisenbahnfreunde Betzdorf (Railway Friends Betzdorf), standing in Siegen:

141 366-5 (former E41 366) at DB Museum Koblenz:
[img]http://www.th%C3%BCrmann.net/Baureihen/Elektro/BR%20141/slides/141%20366-5.JPG[/img]
141 401-0 (former E41 401) on display in Kassel (former headquarters of manufacturer Henschel):

Models
Are there TT-scale models of series E41? I'm not sure. German
Modellbau Wiki
lists six versions made by TT-Modellbau in 2007. I've never seen them, have you? It wouldn't be the first myth bandied by this site. It already listed other models as "available" which were actually only advertized but never made.
May be, somebody else can enlighten us...
That's what's listed:
blue, era III
green, era III
ocean blue / ivory, era IV
light grey / orange, era V
orient red, era V
traffic red, era VI