This thread looks so deserted. I think, I should add something once again...
So let's see what's next:
Series E21 never existed in TT scale.
A TT scale model of series 127 was advertized by Arnold. But the project was cancelled after Arnold's bankruptcy and take-over by Hornby.
Series 128 is also unknown to TT.
Series E30 has never existed in TT, too.
So our next model seems to be series E32.
The prototype
In the early 1920's, the formation of Deutsche Reichsbahn (German Imperial Railroad / DR) was progressing. The deficitary state railroads (formerly owned by the German federal states) had already been bought by the German Empire. But their merger was not yet completed. In those years, the activities of the respective state railroads (usually referred to as Reichseisenbahnen / Imperial Railways [no abbreviation]) were only partially coordinated.
Those were the circumstances of series E32 coming to be. On the growing network of electrified lines around Munich, motive power was needed. So the (formerly Royal) Bavarian State Railway placed an order of 29 electric locomotives for commuter service with manufacturers Maffei of Munich and Brown, Boveri & Cie. (BBC / supplier of the electrical equipment) in 1922. The locomotives were finished and delivered between 1924 and 1926. Within this time, Deutsche Reichsbahn (DR) was founded as successor of the now merged state railroads. So the first locomotives were still purchased by Bavarian State Railway while the receipient of the later ones already was DR.
Because DR did not yet have an appropriate numbering scheme, the designation followed Bavarian standards. The locomotives became Bavarian group EP2 and received the numbers from 20006 through 20034 (20001 through 20005 were already occupied by group EP1 [later series E62]). In 1927, DR introduced their number system for electric locomotives. Now, group EP2 became series E32 and got the numbers from E32 06 through E32 34.
Initially, these locomotives had head-end cab doors connecting the cabs to other locomotives and to passenger cars, respectively. All Bavarian electrics were equipped this way. But in the 1930's, DR removed those head-end doors and replaced them by additional windshields.
Because of this series' good running characteristics, eight of those locomotives (E32 07, 13, 17, 18, 26, 29, 30 and 32) were altered in 1932. They got new gears with a different gear ratio. So their top speed rose while their tractive force shrunk. These units were renumbered into series E32
1
with new numbers from E32 101 through E32 108.
On March 10, 1943, three units (E32 19, E32 21 and E32 23) were destroyed in an air strike in Munich's main station's electric locomotive shed. Further two locomotives (E32 09 and E32 14) shared this destiny and were registered as war losses on November 7 and November 9, 1945, respectively, at the main station of Munich. The remaining 24 locomotives were taken over by Deutsche Bundesbahn (German Federal Railroad / DB) when it was founded on September 7, 1949.
On January 1, 1968, DB introduced their new number system. Only two of the DB units of series E32 had been withdrawn from service before. All others became new series 132. They kept their order numbers. Two-digit order numbers were completed by a leading "0" to become three-digit.
But their end came closer. Until 1972, all of these locomotives had to quit.
Series E32 spend their entire lives in commuter services in Bavaria and southern Baden. They were too weak for freight service and too slow for higher value passenger services. Nonetheless, they occasionally also pulled fast commuter trains (Eilzug / E-Zug)—especially series E32
1
.
Techical data
diagram of series E32
Length over buffers: 13.01 m (42 feet 8 1/5 inches)
Wheel arrangement: 1' C 1'
Top speed:
initially: 75 km/h (47 mph)
series E321: 90 km/h (56 mph)
Permanent power: 1,010 kW (1,355 American horse powers)
Maximum power: 1,170 kW (1,569 American horse powers)
Dynamic braking: not available
Weight: 84.8 metric tons
Liveries
Entire series E32 were delivered in the contemporary standard livery for electric locomotives—already valid all over Germany. Their frames were black. Wheels and rods showed a reddish brown. The carbody's color was chocolate brown while the roof was silver.
In the 1930's, all of these locomotives were recolored into DR's new standard livery. Wheels and rods became bright red, now. And the new color for the carbody was steel blue-grey—at least theoretically. Finally, the availability of this specific color tone was poor. So newly delivered locomotives got this color. But when existing locomotives were in need of a new coat of paint, the respective regions used their respective ranges of color tones. Bavaria was the only region also using the prescribed steel blue-grey. But beside that, they also used two slightly different tones of green, instead. Nowadays, it's next to impossible to find out which locomotive got which one of these colors.
After World War II, the livery essentially stayed the same. But the now-unavailable steel blue-grey was replaced by a clearly defined tone of green. Series E32 kept this livery for the rest of their lives.
Unfortunately, photographs of early color and lettering versions are rare. Here is what I've found: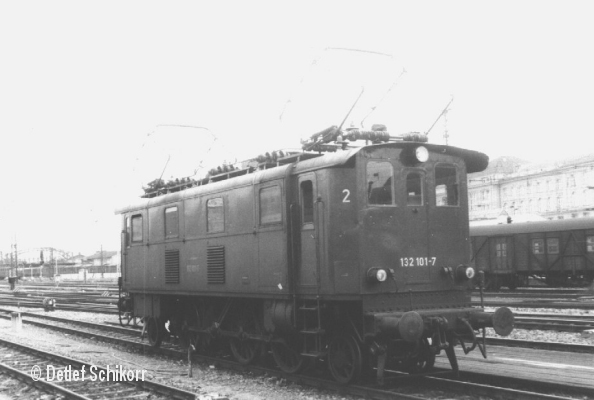 The last unit partially restored:
Preserved units
Few has been left over of series E32:
E32 27 has been preserved as non-operable exhibit at Bochum-Dahlhausen Railway Museum:

One of the engineer's cabs of E32 12 is shown at Nuremberg Transport Museum:

Models
Though not suitable for the strong East German market, this inconspicuous locomotive managed to find even two small-batch manufacturers making TT-scale models of it. Jago discontinued production in 2006—just at the same time when Deak started. Additionally, they offered the same versions. So I'm not sure if they were truly different models or if there were simply the molds sold.
While the chocolate brown delivery livery was offered in two versions by Jago—I don't know what the difference between them is—there was only one version made by Deak. Both offered one version with running number 20006. I don't know the number of Jago's second version.
The second variant was DR's green pre-war livery—offered with running number E32 25 by both Jago and Deak.
There was even a version in GDR livery with red chassis, although a prototype never existed in GDR. Jago called it E32 108 while Deak used the number E32 101.
The last variant was an era IV version in green DB livery as series 132. Unfortunately, I don't know the running number(s) used.