---
Site Admin
Posts: 8823
Joined: Sat May 23, 2009 4:52 pm
Location: Atlanta GA USA
Contact:
That came up before and there was a small discussion on it. Do a search for it.
My website:
https://www.ttnut.com
It's the website you're already on. But if you want to be even more on it, click the link.
---
Some more DSB models made by Tillig in 2011:

Set of two road maintenance hoppers Tank car "Dansk Esso"
---
Here is another DSB model - a boxcar. This one from Roco.
When looking closer and comparing it to the prototype, it turns out to be a "stand in" or "foobie", it depends how you define it.
DSB never had this type of car - but had some similar ones.
The model is lettered as Hbbillns 245 7 126. A car with that number existed from 1999 to 2001 - but it was a different car
Model: The real Hbbillns looked like this: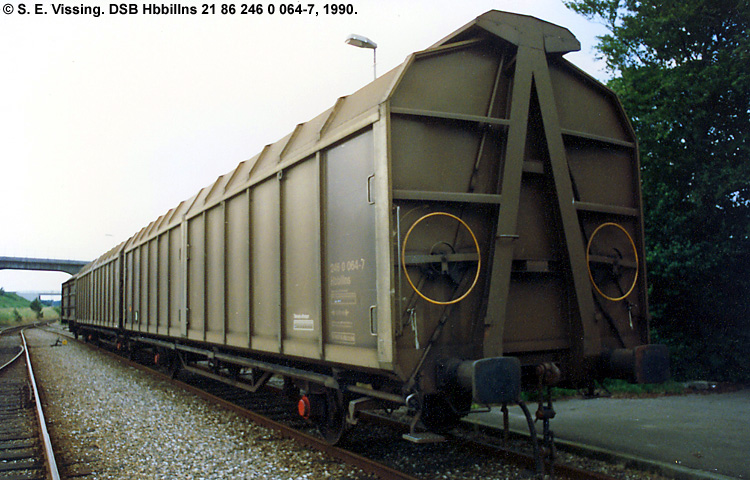 The picture is from 1990 and it shows an identical car, Hbbillns 246 0 064.
Although the model only resembles the prototype, here is the history:
The sides of the car are divided in 2 openable sections which help in fast loading and unloading goods on wooden pallets. The entire inner lenght is accesible by a forklift.
The car was built in 1988 by Scandia Randers and it got a number 21 86 246 0 063 - 9. It was renumbered in 1993 to 01 86 245 7 072 - 9 and then again in 1999 to 46 86 245 7 126 - 0 when it was leased to Post Denmark.
It belongs to Railion since 2001.
The model has different bottom, different roof, different ends, slighly different sides. The paint scheme is correct.
---
Company-use (non-revenue) cars
IV/V
Tjenestegodsvogn 941 2, brown (Dr. Kunze 431 - repaint)
000-052 (2002- ), 100 (2002- ), 500 (1996-2002), 600-602 (1993-1999),
Tjenestegodsvogn 941 3, brown (Tillig G Oppeln - repaint)
000-054 (1973-1988), 056-058 (1974-1983), 061-063 (1979-1986), 069 (1982-1987), 073 (1980-1987), 083 (1976~1990s), 089 (1st) (1976-1982), 106 (1981-1985), 114-115 (1983-1986), 119 (1983-1986), 198 (1984-1988)
200-201 (1976-1987), 204 (1977-1986), 206 (1977-1995), 208-216 (1976-1985), 218-219 (1976-1987), 224 (1976-1985), 226-227 (1976-1987), 229-232 (1976-1986), 234-238 (1976-1988), 240-243 (1977-1982)
245-257 (1976-1988), 259-264 (1976-1987), 270-272 (1976-1981), 289-290 (1978-1981), 295 (1978-1983)
307-308 (1976-1981), 310-311 (1978-1980), 341-342 (1981-1986), 350 (1978-1985), 352 (1978-1987), 358 (1979-1987)
500 (1973-1978), 512 (1979-1988)
Tjenestegodsvogn 941 3, white (Tillig G Oppeln - repaint)
064-066 (1979-1985), 070 (1982-1985), 079 (1981-1985)
202 (1976-1985), 220-223 (1976-1986), 228 (1976-1985)
320-321 (1976-1988), 340 (1981-1988), 344 (1978-1988), 349 (1978-1987), 353 (1978-1986), 389 (1983-1987)
Tjenestegodsvogn 941 3, brown (Tillig 17130~17137 - close; repaint)
055 (1973-80) , 067 (1979-1985), 071-072 (1983-1986), 075-078 (1980~1987), 080 (2nd) (1981-1985), 084-088 (1980-1987), 090-093 (1981-1987), 095-105 (1980-1988), 112-113 (1983-1987)
283-285 (1978-1985), 322-331 (1978-1985), 339 (1981-1985), 348 (1978-1985), 351 (1978-1987), 393 (1980-1985)
Tjenestegodsvogn 941 3, brown (Tillig 14100~14112/17001~17007 - repaint)
059-060 (1977-1985), 074 (1980-1988), 080 (1st) (1977), 081 (1st) (1977), 082 (1980-1987), 107 (1981-1985)
203 (1978-1981), 205 (1976-1985), 217 (1976-1987), 225 (1976-1983), 239 (1976-1985), 244 (1976-1982), 258 (1976-1987), 265-267 (1976-1987), 273-282 (1976-1987), 286-288 (1978-1985), 291-294 (1978-1987), 296-299 (1978-1982)
301-306 (1978-1987), 312-319 (1978-1982), 332-337 (1978-1986), 388 (1983-1995), 501-511 (1976-1988), 522 (1980-1986), 525 (1980-1986), 600-607 (1977-1983), 700-707 (1978-1985), 796 (1984- )
Tjenestegodsvogn 941 3, brown (Dr. Kunze 431 - repaint)
068 (1979-1988), 094 (1980-1985), 108-111 (1982-1983), 148-197 (1986-1995), 199 (1984-1995), 207 (1981-1995), 233 (1978-1995), 268-269 (1981-1988)
300 (1981-1995), 309 (1979-1995), 338 (1981-1987), 343 (1981-1984), 345-347 (1981-1988), 354-357 (1982-1988), 360-387 (1979-1995), 390-392 (1979-1995), 394-401 (1980-1995)
513-521 (1979-1988), 523-524 (1981-1988), 526-537 (1982-1987), 539-571 (1982- ), 573 (1986-1988), 575-591 (1986-1995), 708-795 (1978-1997), 797-802 (1984-1997)
811-904 (1984-1997), 905-907 (1986- ), 908-914 (1986-1997), 915 (1988-2002), 916, brown (1990- )
Tjenestegodsvogn 941 4, brown (Tillig 17130~17137 - close; repaint)
000-016 (1978-1988), 098 (1982-1985), 109 (1979-1984), 200-201 (1979-1986)
Tjenestegodsvogn 941 4, brown (Dr. Kunze 431 - repaint)
094-096 (1981-1986), 205-206 (1980-1981)
Tjenestegodsvogn 941 4, white (Tillig G Oppeln - repaint)
097 (1982-1985), 203-204 (1979-1981)
Tjenestegodsvogn 941 4 099, brown (1980-1985) (Tillig 14100~14112/17001~17007 - repaint)
Tjenestegodsvogn 942 1 000, brown (1994-1996) (KPA/PH-Modell 204 - repaint)
Tjenestegodsvogn 942 2 501, brown, (1997- ) (use Jeike 0412 kit)
Tjenestegodsvogn 943 3, brown, (1982- ) (Tillig 14750/14752~14761 - close; repaint)
200, 221-222, 300-303, 400-401, 500, 600-662, 700-794, 799, 800, 850-949)[/size[

Tjenestegodsvogn 944 5, brown (1993- ) (Tillig 14750/14752~14761 (Ks) - repaint)


002-009, 100-101



Tjenestevogn 945 1, brown (1984-1997) (Tillig 14240/14247/14249/14250~14256/14260~14268/17240-17246/17250-17259/17275 - repaint)


000-006, 100-125, 200-278



Tjenestegodsvogn 946 0 550-699, brown (1972~2004) (Tillig 14580~14589 - close; repaint)

Tjenestegodsvogn 946 0 700-749, brown (1972~2004) (Tillig 14580~14589 - close; repaint)

Tjenestevogn 950 0 493, brown (1984-2004) (Dr. Kunze 431 - kitbash)

Tjenestevogn 950 2 001-012 (1982-2016) (Dr. Kunze 431 - kitbash)

Tjenestevogn 981 3 199, brown (1988- ) (Tillig 15581~15589 - kitbash)

V/VI
Tjenestegodsvogn 941 2 000-052, brown (2002- ) (Dr. Kunze 431 - repaint)
Tjenestegodsvogn 941 2 100, brown (2002- ) (Dr. Kunze 431 - repaint)
Tjenestegodsvogn 941 2 500, brown (1996-2002) (Dr. Kunze 431 - repaint)

Tjenestegodsvogn 942 2 501, brown, (1997- ) (use Jeike 0412 kit)

Tjenestegodsvogn 943 3, brown, (1982- ) (Tillig 14750/14752~14761 - close; repaint)


200, 221-222, 300-303, 400-401, 500, 600-662, 700-794, 799, 800,850-949



Tjenestegodsvogn 944 5, brown (1993- ) (Tillig 14750/14752~14761 (Ks) - repaint)


002-009, 100-101



Tjenestevogn 945 1 500, brown (1997- ) (use Jeike 0412 kit)

Tjenestegodsvogn 946 0 550-699, brown (1972~2004) (Tillig 14580~14589 - close; repaint)

Tjenestegodsvogn 946 0 700-749, brown (1972~2004) (Tillig 14580~14589 - close; repaint)

Tjenestevogn 949 9 000-001, black (1996-2013) (Dr. Kunze 431 - kitbash)

Tjenestevogn 950 0 493, brown (1984-2004) (Dr. Kunze 431 - kitbash)

Tjenestevogn 950 2 001-012 (1982-2016) (Dr. Kunze 431 - kitbash)

Tjenestevogn 981 2 001, brown (2005- ) (Tillig 18101~18109 - repaint)

Tjenestevogn 981 3 199, brown (1988- ) (Tillig 15581~15589 - kitbash)
---