...restart...
I've been told that the thread which initially existed under this headline had to be removed because of software problems (viruses or something like that).
So the information offered by that thread is lost unfortunately. I hope, there's somebody with a good overview of the market who can reproduce that information. I unfortunately lack in the information necessary to do so.
But although I want to restart this thread because there were images of Polish prototypes requested in another thread. And this is the best place to post these images.
We're talking about GDR-made double deckers delivered to Poland in large quantities and possible to be made out of mass-produced TT-scale models. I don't know if they are even delivered by any model railroad manufacturer in the proper Polish liveries. May be, somebody else can add this information.
From 1959 to 1977, Waggonbau Görlitz (WG / GDR) delivered 473 four-segment articulated double-decker trains (type Bipa in era IV) to PKP. Between 1967 and 1975, 57 end segments for these trains were added as replacement because there were some problems; but I don't know what kind of problems.
All of these trains were delivered with sloped roof ends. However, nowadays almost all trains have vertical roof ends and a changed arrangement of head end windows.
Additionally, PKP removed the intermediate sections of several trains when worn out and used the remaining end segments as two-segment articulated trains. But they had not been delivered this way.
Initial livery, but changed head ends:
Later livery:
Latest livery as far as I know:
Shortened versions: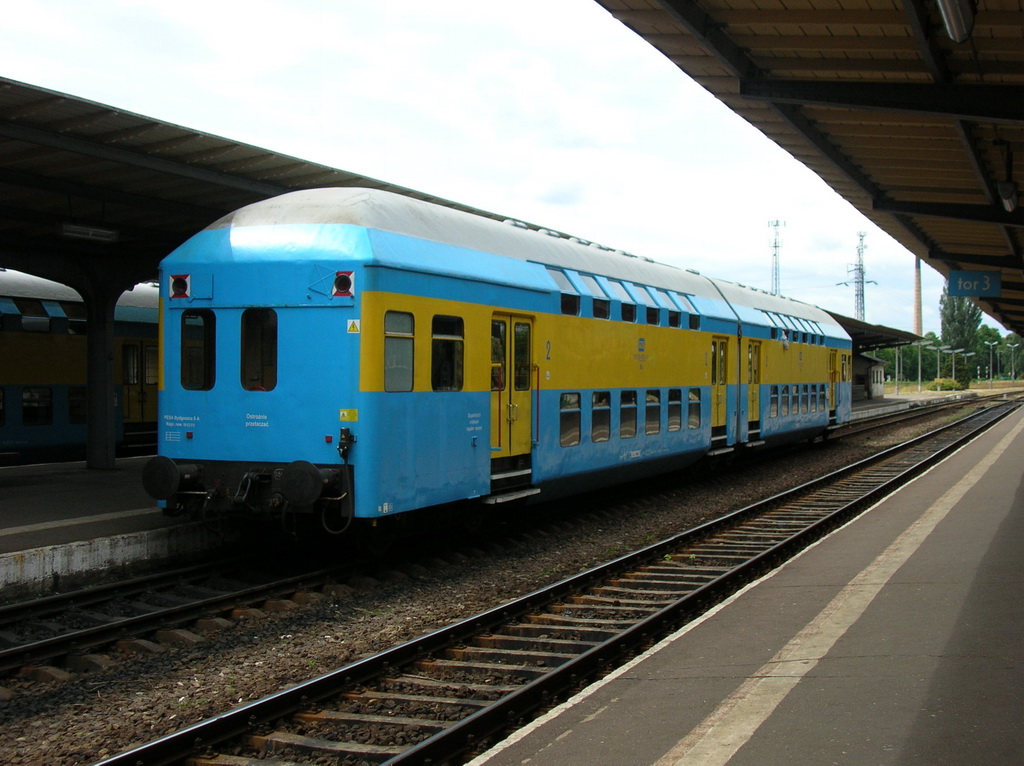 And in 1988 and 1989, PKP received 160 single double-decker coaches (type Bdhpun) from the same manufacturer.
They were all delivered in this blue and yellow livery:
Meanwhile all of these cars have been taken over by PKP's subsidiary PKP Przewozy Regionalne (PKP PR) which is now only Przewozy Regionalne (Regional Transportation). So these cars have received new lettering and partially even new colors.