This time I want to say hello too and thank's for the welcome.
Better later, than never we say here.
My first and intially contact with US-TT model railroading was a small layout (800 x 300/350 mm) by M. Klostereit that was published in the german TT-Kurier 06/1997. A first picture was previously published in TTK 04/1997 for an april fool hoax with a BR 106/346, which in fact was never exported to any latin american country.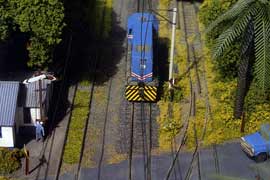 The photos are still
accessible on the russian 12mm-website
, where I found them again few weeks ago. Well, actually it wasn't truly US-modelling as it were located in Costa Rica, but the most rolling stock was. Only the 12 mm gauge was a little compromise, due to the fact that Costa Rica a 1,067 mm track gauge has.
The shown freelance 2-8-0 steam loco was based on an old BTTB BR 56, the GE U6B diesel on a BR 107 (CSD T435) and the passenger cars were modified BTTB stuff out of old starter sets made in GDR (very cheap stuff today). Only one boxcar (unfortunately, it isn't visible on these photos) and the caboose were true US models. The truck is a russian ZIL 130, today made by RK-Modelle/Kiev/Ukraina. That's all but I like it ... !
Normaly I model the east-german (where I'm from) DR in the early 1980'th, nonetheless it's my favourite micro layout until this day. That's why I'm here and look around for US-TT prototypes now.
cheers!